The Pierry region
You can take many trips....
(Many thanks to the Comité Départemental Du Tourisme de la Marne)
To discover the region of Champagne and its terroir, all you have to do is taking the touristic road of Champagne (Route touristique du Champagne).
Entirely marked out, this road winds through the vines on hillsides where Champagne villages, castles and churches are hanged. Pay a visit to a winemaker or a Champagne House...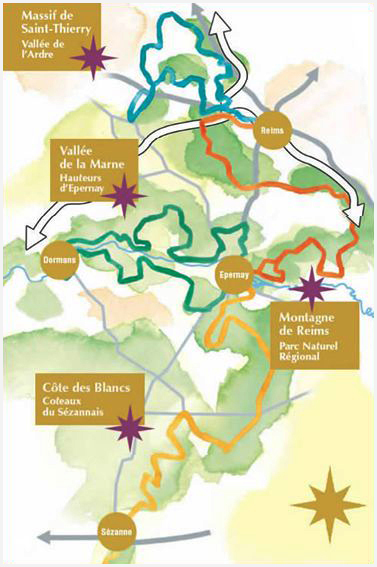 Vineyards and woods compose in the Saint-Thierry massif a beautiful green ensemble surrounding villages intimately associated with the coronation of French Kings. From Reims, Tinqueux exit, the route trundles along...
Its pleasant slopes are one of the most beautiful treasures of the French viticulture. From Reims or Epernay, 70kms to cross in the middle of a nature park.
Often overlooking the valley, this itinerary offers gorgeous viewpoints and opens the gates to its rich heritage. From Epernay, follow the right side of the Marne and back.
The Côte des Blancs, home of the Chardonnay : its famously named villages are built as an amphitheater on the hillsides. The hills of Sezanne are a mix of bucolic charm and viticulture. From Epernay or Villenauxe-la-Grande, the itinerary is full of historical evidence.
Initiation Equitation
Share a pleasant moment around the owner's passion : horses.
​